Strategy Leaders Forum, April 13-17, 2014, Dubai, United Arab Emirates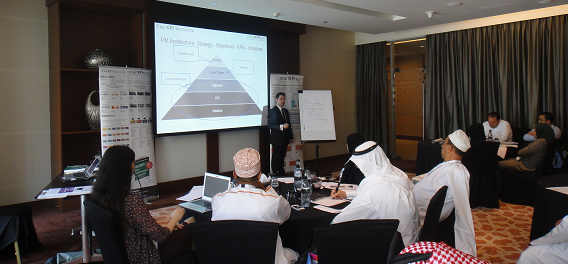 Adrian Brudan, Director of Research Programs at The KPI Institute, delivered a one day workshop as part of the Strategy Leaders Forum, bringing clarity on how to establish and work with Key Performance Indicators. This workshop explored the relationship between metrics, KPIs and KRIs and how they can be deployed in practice. It also presented the fundamental techniques for KPI selection that ensure a rigorous process and quality result. Practical exercises were combined with best practice examples from a variety of industries and functional areas.
RESEARCH

Over the last month, The KPI Institute's research team has documented over 100 KPIs across industries like Employment and Workplace Relations, Education, Tourism, Transportation and Infrastructure, as well as Healthcare Support Services.

smartKPIs.com Premium is the most comprehensive and well documented selection of Key Performance Indicator (KPI) examples in the world.

To help you understand the complexity of using Key Performance Indicators, The KPI Institute developed an infographic that shows in a simple, easy-to-follow way, how to work with Key Performance Indicators.

The KPI Infographic focuses on clarifying the KPI terminology and addresses the most challenging aspects of using KPIs. The most important do's and don'ts in data visualization, a critical step in properly reporting KPIs, are also provided.
Surveys

Data Visualization

Customer Satisfaction


Performance Expo: Customer satisfaction survey - TNT Express
Read more

Scorecards


Performance Expo: Balanced Scorecard at Sunrise Health Region
Read more

Employee Engagement


Performance Expo: Employee Engagement Survey at USAID Health Care
Read more

Strategy Map


Performance Expo: Strategy Map at Association of Development Financing Institutions in Asia and the Pacific
Read more

Training Evaluation


Performance Expo: Training Evaluation - 11th HR Metrics Summit
Read more

Dashboards


Performance expo: Edinburgh city council performance dashboard
Read more

Employee Satisfaction


Performance Expo: Employee satisfaction survey: The Irvine Valley College
Read more

Infographics


Ineffective vs effective employee management skills and the business impact - Infographic
Read more
Newly Published Research

Functional Area

Newly Published Research

by Industry

New reports proving the most popular 25 KPIs applied in various functional areas.

New reports containing the most popular 25 KPIs used in different industries.
EDUCATION
Upcoming Training Courses
Scheduled certification courses dedicated to rigorous KPI understanding and practice.
| | |
| --- | --- |
| Muscat, Oman | Melbourne, Australia |
| | |
| --- | --- |
| London, UK | Kuala Lumpur, Malaysia |
KPI Professional
Certification
23 - 25 June 2014
Find out more
KPI Professional
Certification
30 June - 2 July 2014
Find out more
Completed Training Courses

Premier global certification programs delivered recently.
| | |
| --- | --- |
| Istanbul, Turkey | Singapore, Singapore |
In-house Requests

Recent in-house training courses provided around the world.
Aviation
United Arab Emirates
1001-5000 employees
Insurance
Oman
101-500 employees
| | |
| --- | --- |
| | Should you be interested in scheduling an in-house training course, email us at office@kpiinstitute.org and you will receive a customized offer. |
You are receiving this email as a registered member of smartKPIs.com and The KPI Institute.
smartKPIs.com is an online platform for performance management knowledge integration. It offers high quality resources and collaboration functionality for the community of registered members, enabling them to make smart decisions regarding their performance management initiatives.
The KPI Institute is the global authority on Key Performance Indicators (KPIs) research and education, providing through its publications and training courses insights on how to measure and learn with KPIs.
If you no longer wish to receive this email you can unsubscribe from The KPI Institute UPDATE newsletter. To unsubscribe from all The KPI Institute newsletters, click here. Please direct your questions and feedback to this email address: update@kpiinstitute.org
Copyright 2004-2014 © The KPI Institute. All Rights Reserved.