Get Your Industry - Specific KPI Dictionary!
A comprehensive collection of KPIs specific to your industry to shape your next competitive advantage!
The Industry KPI Dictionary series is an educational product assisting professionals in understanding what Key Performance Indicators (KPIs) are, how they look like, how KPI names can be standardized for a more rigorous use and how they can be documented for more accurate data gathering. Examine this reference book collection and access the most relevant KPIs used in practice as a tool to enable the implementation of a sound performance measurement and management system in your organization!
GRASP THE BEST PRACTICES INCLUDED IN THE FOLLOWING SECTIONS: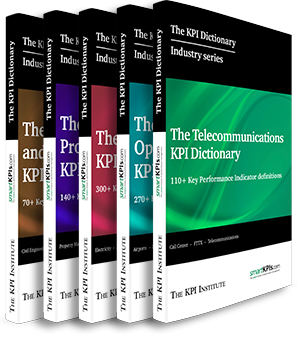 GRASP THE BEST PRACTICES INCLUDED IN THE FOLLOWING SECTIONS:
Select

- the critical KPIs to drive organizational success

Configure

- your own customized organizational scorecard and dashboard

Acquire

- transparency around key processes by monitoring relevant KPIs

Increase

- professionals' accountability to meet strategic goals

Empower

- your managers to gain a broad perspective of your industry