It is our last day at The Performance Improvement and KPIs Conference in Dubai and we are more than happy to end this premiering event on a positive note. We dedicated day 4 to our post conference workshops and we hope you were as excited as we were to choose and explore our three different tracks. We prepared for you a glimpse of the subjects we approached during this day.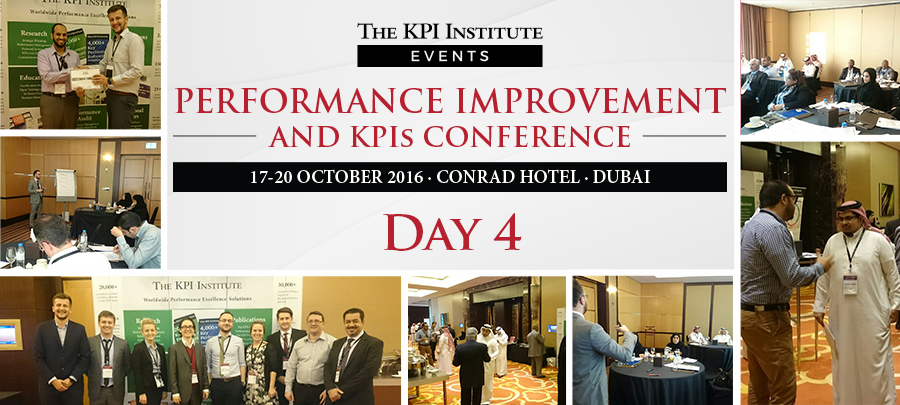 POST CONFERENCE WORKSHOPS
KPI Essentials – Selection and Target Setting.
This workshop was facilitated by Teodora Gorski – Managing Director MENA, The KPI Institute, UAE. A session that provided professionals with a clear overview on the challenges of KPI management, KPI typologies and selection techniques as well as the necessary steps to enable measurement efficiency.
Managing Healthcare Performance.
Presented by Mihai Toma, the Head of Professional Services at The KPI Institute, UAE, this workshop was designed to enable a smart, data-based decision making process, display the importance of a performance culture, improve communication amongst team members and teach participants how to manage strategic changes by using the right key performance tools.
Key Techniques for Successfully Implementing a Balanced Scorecard.
This session was facilitated by Maitham Aloraibi, Management Consultant at The KPI Institute and it offered participants the chance to acquire a deeper understanding of the value and functionality of the Balanced Scorecard Management System. It also addressed BSC architecture standardization, KPIs and strategy in alignment with relevant objectives.
OUR CONFERENCE PARTNERS
This event is brought to you by The KPI Institute in partnership with smartKPIs.com, PERFORMANCE Magazine, CERTX, Resilience&, The Madinah Institute, Mid-East.Info, Day of Dubai, ArabMedicare, HR Revolution and Chief Learning Officer Middle East.
WHAT HAPPENED AT THE CONFERENCE
If you find this event interesting, you can find more information about DAY 1, DAY 2 and DAY 3 at the PI & KPIs Conference by accessing our newsroom. Would you like to request more details? Please do not hesitate to contact us.
Check our upcoming events, soon we may organize another event in your area and we would be more than happy to meet you!