The KPI Institute is pleased to announce the successful completion of another complex project and collaboration in Mongolia that took place from 31st of October to 4th of November.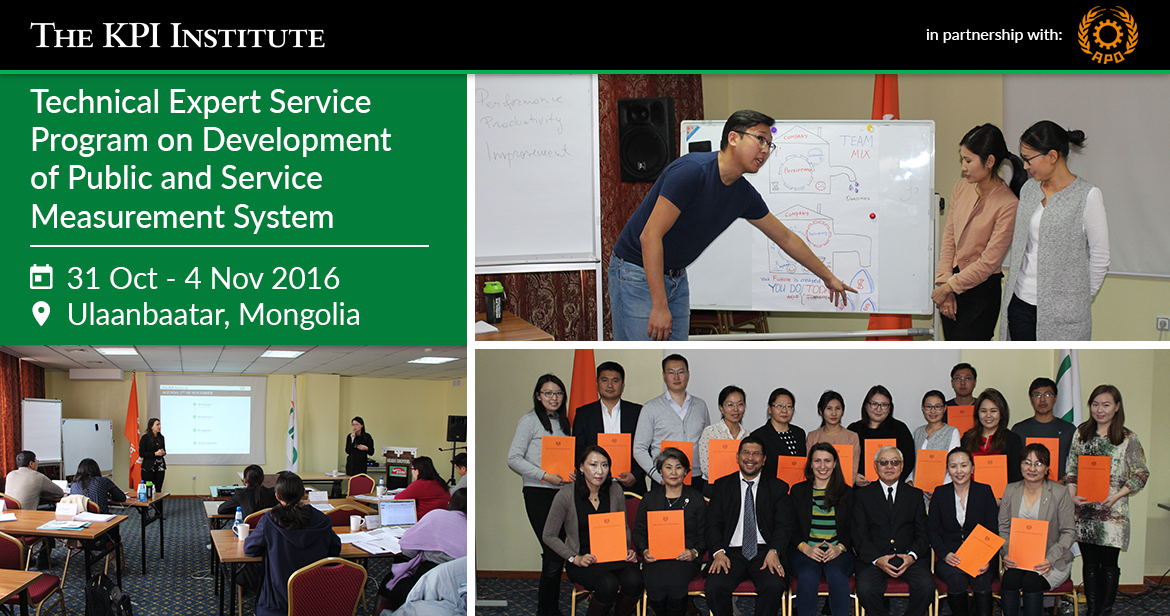 Starting from a common resolution, the Asian Productivity Organization (APO) and Mongolia Productivity Organization (MPO) outlined a program aiming every societal level that could potentially increase productivity and further on enhance overall performance throughout the Mongolian society.
Objectives and approach
The broad purpose of this project was increasing productivity in Ulaanbaatar, Mongolia, and this is where The KPI Institute's expertise intervened.  Within the Technical Expert Service (TES) Program on Development of Public & Service Measurement Systems, we developed a dual approach. Our objective was to strengthen the capability of Mongolian Productivity Organization (MPO) in selecting KPIs and training the participants how to set up and evaluate their performance management.
The KPI Institute's Instructional Design & E-Learning Coordinator, Raluca Vintilă, worked with APO towards fulfilling these objectives. Our approach was providing our partners with the foundation of the organizational performance measurement system and guiding them toward understanding, establishing, activating, reporting and generating value by implementing KPIs in their organizations.
Project insights
MPO, Erdenet Mining Corporation, Thermal power plant, Munkhsiin useg LLC, Mon tsakhim LLC, New Pax LLC and the Institute of Finance and Economics staff members participated in The KPI Institute's training sessions, beneficial to improving productivity and efficiency related issues. We aimed to upgrade their structural thinking and analytical competencies in alignment with the country's need for productivity improvement.
Over the last years, due to its involvement in numerous such projects of a great amplitude, The KPI Institute has become highly trusted by worldwide organizations, regardless of their industry or activity field, when it comes to their performance related issues.
Should you be interested in discussing with us about your performance system and receiving guidance from our Research Analysts, feel free to contact us!