In a highly competitive market, the quality of the organization's customer service will determine customers' satisfaction, loyalty, increase the chances of them becoming advocates of the company and generate future revenue. This training course focuses on the entities, essentials, enablers and evaluation tools involved in a performant customer service.
The course's approach to customer service is unique, as it includes the performance management dimension. Participants will not only understand the important role played by all the entities involved in the process, but they will also become familiar with the implementation phases of a customer service performance management architecture. Furthermore, they will be provided with the necessary tools and channels to enhance performance and measure its impact, both internally and externally.
3 Key Business benefits
Deliver responsive and engaging services by implementing, sustaining and evaluating an architecture of customer service performance in your own organization;
Gain the recognition, loyalty and advocacy of your external and internal customers;
Attain high behavioral standards and ensure the usage of relevant channels and instruments in your customer service.
Attain a standardized approach for your services' by implementing a customer service performance strategy and system;
Acquire a high level of versatility that enables you to react and deal with a vast range of scenarios when working with and for the customers;
Gain competitive advantage by capitalizing on good case practices and learning from worldwide customer service best practices; * Improve your ability to evaluate your external and internal customers' satisfaction and take into account their feedback, in order to ensure continuous improvement;
Get professional recognition of your customer service knowledge and skills through a Certification granted by The KPI Institute.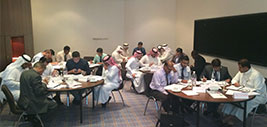 Understand how to implement a customer service performance culture, strategy and working system in your organization;
Develop the channels and tools needed to sustain customer service performance;
Create a systems thinking in customer service performance management;
Learn how to fulfill your internal and external customers' needs and expectations;
Practice and improve the competencies required in different customer service settings: face-to-face, over the phone and difficult customers' handling.
Day 1
Customer service performance overview and importance
The importance of customer service for the company's image and future revenue streams;
Entities, essentials, enablers and evaluation of the customer service performance;
The customer service team and its members;
The implementation, sustainment and evaluation of the customer service performance;
Activity: Analyze a good and a bad customer service – case practice;
Activity: Share outstanding vs. terrible customer service experiences.
The Customer: External vs. internal customer service
Definition and profile of the customer;
The difference between external and internal customer service;
Customers' focus, needs and expectations;
Difficult customers' typologies and solutions.
The Customer Service Professional
Definition and profile of the customer service professional:
Desired attitude and mindset;
Excellent customer interaction skills;
Business acumen;
Cultural sensitivity;
Stress management.
Activity: Solve different practical exercises.
Customer Service in Practice
Handling complaints;
Customer Service International standard: ISO 10002:2004;
Activity: Role-play different situational interactions.
Face to face interactions;
Telephone interactions;
Day 2
Essentials of Performance Management
Customer Service Strategy
Customer service direction, objectives, KPIs and projects;
Alignment of the customer service with the organization's mission, vision and values;
Activity: Analyze Zappos' strategy in terms of customer service.
Customer Service System
Customer service performance tools:
Desired State of Evolution;
Strategy Map;
Scorecard;
Dashboard;
KPI documentation & report forms;
Portfolio of Initiatives.
Activity: Allocate the relevant Customer Service KPIs on a Scorecard;
Activity: Match the items to the relevant customer service system tools and implementation techniques;
Activity: Document the "% Customer satisfaction" KPI.
Customer Service Performance Culture
Pillars of a customer service performance culture:
Change management;
Communication;
Motivation;
Gamification;
Recognition.
Activity: Analyze different good case practices for the customer service employees' engagement.
Customer Service Performance Enablers
Channels
Customer service performance interaction channels:
Face to face;
Online: web presence, e-mails, chats, social media;
Phone.
Activity: Realize a SWOT analysis on a communication channel.
Knowledge and Learning
Knowledge base development and CRMs;
Data gathering, storage and update;
Learning and taking decisions based on experience.
Innovation
The importance of encouraging and sustaining an innovative customer service;
Activity: Analyze Amazon's Dash innovation device.
Technology
Tools, software and technological enablers to sustain the customer service performance;
Activity: Analyze US Airways' automatic call distributor system & IVR system.
Day 3
Evaluation
Audit of the Customer Service Performance Maturity
Customer Service Performance Maturity Model;
Activity: Fill in the Customer Service Performance Maturity Model questionnaire.
Customer Service Performance review
Performance Management review meetings;
Scorecard evaluation & decision making;
Dashboard evaluation & decision making;
Activity: Practice real time decision making based on Customer Service scorecard and dashboards examples.
Customer Feedback
Tools and techniques for measuring the customer's satisfaction, loyalty and advocacy;
Implementation of the feedback generated by the customers;
NPS data collection and KPI calculation;
Activity: Design a 5 question customer satisfaction survey.
Review and certification exam
Course review;
Certification exam.
1. Course materials:
Course slides;
Course notes.
2. Toolkit Participants will receive the Customer Service Toolkit, which consists of templates or examples for:
Customer service process mapping;
Customer Service Performance Maturity Model questionnaire;
Customer service standard operation procedure;
Dashboard and Scorecard;
Portfolio of Initiatives;
KPI documentation forms.
3. Subscription to smartKPIs.com for 6 months, providing access to over 8000 KPI examples.
4. One research report from the Top 25 KPIs series.
5. Free access to all webinars from the 2014 Performance Management series.
Customer service experts
Individuals working with customers on a regular basis, regardless of their field of expertise or the organization's profile will discover, through this course, the tools and resources required for the effective implementation, sustaining and evaluation of a customer service performance culture within their organization. By sharing good case practices in the field and models for standardizing the customer service function, the participants and the trainer will come up with solutions to the existing challenges within organizations.
Top/middle/lower customer service management people
Individuals from top/middle/lower customer service management, regardless of their field of expertise, will be glad to discover in Certified Customer Service Performance Professional, a training course especially designed to develop their customer service performance management skills. The course provides the tools and resources required for the effective design, implementation and evaluation of a customer service performance system within their organizations. Good case practices and new trends in the management of the customer service teams are discussed and analyzed.
Professionals interested in customer service
Entrepreneurs, analysts and professionals from different fields, that have to interact with customers in their respective work fields, will acquire the knowledge needed to understand customer behavior and responding standards. The networking opportunity and the possibility of sharing knowledge and personal experiences with other professionals from the customer service area constitutes an important aspect of this training course.

This course will be delivered by one of our trainers. Our faculty are certified master trainers, with abundant experience as both practitioners and education providers. Having both professional and academic experience, our trainers are able to bring the depth and breadth of their knowledge to our courses.
Being extensively certified reaffirms our credibility as a training provider and also supports our goal of delivering consistent quality to our valued clients.
For more details visit Our Faculty page.

Pre-course 
This part of the learning experience is meant to ensure a smooth transition to the face-to-face training. For a successful learning experience, it is highly recommended to take the following steps:
Introduction – share an introduction message to present yourself to the other participants in an online group;
Pre-course evaluation – fill in a need analysis and a short quiz to establish the current level of knowledge and to share your expectations. As a part of this self-evaluation, you can establish personal learning objectives for this training course;
Guidance and schedule – read a document presenting guidelines on how to maximize your learning experience, as well as a recommended learning schedule;
Further reading – analyze several materials, including information about the history and development of the discipline;
Movie recommendation – watch and write main learning points from the movie " A five star life", which will constitute a starting point for a discussion related to Customer Service auditing standards;
Mystery client – conduct a secret service audit of your company and create a report with the findings;
Additional video – watch a video and start a discussion on the online learning platform.

Core course
During the three days of face to face training, the course is designed to facilitate experiential learning and ensure a high level of interactivity. Exercises used to enhance the development of competencies range from simple discussions and case studies to simulations and the practical usage of supporting tools for customer service performance.
The learning experience consists in:
Applying concepts in practical exercises;
Developing systems and tools to facilitate the implementation of a Customer Service Performance management architecture;
Sharing experiences and best practices;
Evaluating participants' knowledge, through short quizzes to support the final test.

After-course
After-course The learning process is not finalized when the face to face training course ends. For a continuous learning experience, we encourage you to take the following steps: * Action plan – submit a plan to state the changes you intend to make in your department or organization in terms of Customer Service Performance implementation 3 days after the training course;
KPIs selection techniques– watch a 45 minutes webinar explaining the next steps after deciding to implement a Customer Service Performance architecture in your organization. Learn how to select the right KPIs and get insights from best case practices
In-house presentation – submit a PowerPoint presentation that you will deliver within the organization on key topics covered during the training course, 3 weeks after the end date of the course.
Additional reading – access a list of resources (books, articles and videos) in order to continue your learning experience.
The certification process is finalized only when you complete all of the 3 stages of the learning experience. Nonetheless, you will receive a:
Certificate of Attendance: after participating at the 3 days of on-site training course;
Certified Customer Service Performance Professional diploma: after you have successfully completed all of the 3 stages of the learning experience.
We strongly recommend that you obtain the Customer Service Performance Professional title, as this endorses your skills and knowledge related to this field.
The KPI Infographic;
The qualitative reports Performance Management in 2012 and Performance Management in 2013;
Webinar: The "KPIs selection techniques" webinar will enable you to continue the learning experience and offers you insights in how to implement a performance management architecture in your organization's customer service department, by teaching you best techniques to select KPIS
You can check our course locations and dates here.