This course aims to improve the decision making process through a rigorous data analysis within the company, as well as to enable managers and analysts to draw insights from both quantitative and qualitative data. Participants will understand, through practical learning, how to effectively collect, analyze and interpret data for a better decision making process, based on historical data and trend analysis.
By attending this course, participants will gain both theoretical knowledge and practical skills in working with data. The information will enable them to better understand the meaning of data and the insights that it reveals.
Key Business benefits
Achieve processes clarity and strategy optimization by implementing data analysis frameworks;
Optimize the performance reporting processes by closing the gaps found in the data analysis tools used within your own business;
Attain superior results by implementing data analysis procedures, which improve the achievement of your company's objectives.
Improve the organization's decision making process by gaining knowledge on data analysis and interpretation;
Obtain the most relevant data you need by setting up a customized data analysis process;
Achieve the management's buy-in, by understanding the utility of implementing customized data analysis methodology in daily business activities;
Provide a logical framework for understanding data analysis instruments;
Obtain premium recognition as a Certified Data Analysis Professional, by completing a unique learning program.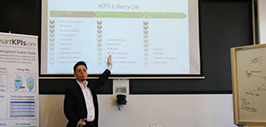 Develop a hands-on, practical overview of data analysis and connected topics;
Integrate statistical concepts and analysis tools that are widely used in corporate analytics environments;
Analyze examples of practical applications for statistical methods used in solving real-life business issues;
Acquire mastery of basic MS Excel and statistical techniques though practical examples;
Solve complex problems, using intermediate and advanced Excel techniques.
Day 1 – Understanding data analysis
Course context
Introduction of the participants;
Expectations setting;
Learning objectives formulation;
Course agenda presentation.
Data Analysis – The Basics
Definitions and utility of data analysis;
Data analysis process;
Realignment based on analysis;
Governance of data analysis.
Data quality
Data accuracy;
Logical inconsistencies;
Data sampling errors;
Data comparability;
Data completeness;
Economic/business interpretation of qualitative data;
Organizing, synthesizing and aggregating data
Data structure;
Challenges in aggregating data;
Data preparation;
Expert judgement;
Meta-analysis and evaluation synthesis;
Normalization of data;
Day 2 – Data analysis
Statistical analysis tools
Statistical tools: mean, median and mode;
Trend analysis: variance and standard deviation;
Hypothesis testing;
Statistical process control;
Data visualization and pattern detection
Single, two and multi-dimensional data visualization;
Level, trend, seasonality and noise in time series data;
Autocorrelation;
Data comparison
Analysis using histograms and Pareto Charts;
Cumulative percentage analysis;
Rules for interpreting data and formulating conclusions;
Univariate and multivariate analysis
Differences and complementarities in single and multivariate analyses;
Techniques used in analyzing single variables;
Techniques for analyzing relationships between variables (correlation analysis);
Parametric vs. non-parametric techniques used for analysis;
Regression analysis
Linear and logistic regression;
Assumptions and basic models;
Diagnostic measures and uses;
Nonlinear models using categorical data and other topics of interest;
Day 3 – Advanced data analysis  
Probability and confidence
Expected values and hypothesis testing;
Contingency tables – ANOVA;
From exploratory to predictive modelling
Expected values;
Confidence limits;
Risk and uncertainty;
Type 1 and type 2 errors;
Tentative sensitivity analysis;
Data dimensionality
Compensation for small sample sizes;
Big Data;
Review and Certification Exam
Course review;
Certification Exam.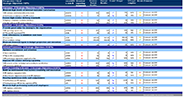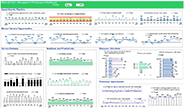 1. Course materials:
Course slides;
Course notes;
Course quiz.
2. Catalogues:
3. 11 Videos dedicated to Performance Management
4. Webinars – free access to all Performance Management webinars series from 2014 to 2016.
5. Premium subscription on smartKPIs.com
Available for 6 months, providing access to 500 fully documented KPIs and over 20.000 KPIs enlisted and one research report from the Top 25 KPIs series.
Professionals interested in analyzing data
Professionals from different fields, interested in the subject of data analysis, data collection and the data reporting processes will improve their knowledge and competencies in these areas.
Top/middle/lower management professionals
Individuals, such as executives or operational managers, regardless of their field of expertise, will gain the ability and knowledge to better analyze and understand performance measurement data and will be able to maximize the meaning of data provided by KPIs and metrics.
Performance Management experts
For professionals like data analysts, strategy managers, performance management officers, project managers, it is important to develop competencies in analyzing data related to KPIs or metrics. Usually, this particular audience already has a performance measurement system set in place and the Certified Data Analysis Professional training course offers them the opportunity to better organize, analyze, report and understand the meaning of the data provided through specific metrics or KPIs.

This course will be delivered by one of our trainers. Our faculty are certified master trainers, with abundant experience as both practitioners and education providers. Having both professional and academic experience, our trainers are able to bring the depth and breadth of their knowledge to our courses.
Being extensively certified reaffirms our credibility as a training provider and also supports our goal of delivering consistent quality to our valued clients.
For more details visit Our Faculty page.

Pre-course
This part of the learning experience is meant to ensure a smooth transition to the face to face training. Participants are required to take the following steps:
Needs assessment – complete a questionnaire to determine a tailored and relevant learning experience;
Pre-course evaluation quiz – take a short quiz to establish your current level of knowledge;
Guidance and schedule – analyze a document presenting guidelines on how to maximize your learning experience;
Forum introduction – share an introduction message to present yourself to the other course participants;
Expectations – share your expectations regarding the training course;
Pre-requisite reading – go through a series of documents to better understand the core course content.

Core course
The Certified Data Analysis Professional training course provides an interactive practice-based learning environment in which participants focus on:
Establishing customized models for data analysis based on your organization's requirements;
Gaining knowledge on basic (and advanced) data analysis concepts and statistical instruments;
Applying the knowledge gained in practical exercises, aimed at strengthening the learning process.

After-course
The learning process is not finalized when the core course ends. In order to benefit from a complete learning experience, participants are also required to take the following steps:
Forum discussions – initiate a discussion on the forum and contribute in a discussion opened by another participant;
Action plan – create a plan for the actions and initiatives you intend to implement after the training course;
In-house presentation – create and submit a short PowerPoint presentation to share the knowledge acquired within the training course with your colleagues;
Additional reading – go through a series of resources to expand your content related knowledge;
Learning journal: reflect upon your 3 stages learning experience and complete a journal.
The certification process is finalized only when you complete all 3 stages of the learning experience. Nonetheless, you will receive a:
Certificate of Completion (soft copy): after completing pre-course activities and passing the Certification Exam;
Certificate of Attendance (hard copy): after participating in the 3 days on-site training course;
Data Analysis Certification Diploma (hard copy): after you have successfully completed all 3 stages of the learning experience.
1 The qualitative reports Performance Management in 2012 and Performance Management in 2013;
2 Catalogues:
Analysis tools;
Planned vs actual performance examples;
Types of business intelligence solutions;
Analysis using histograms and Pareto charts;
Techniques to analyze single variable;
Techniques to analyze relationships between variables;
Performance Indexes;
Scorecards;
Dashboards;
3 Fact sheets:
Data-Quality;
Scorecards definitions;
Dashboards definitions;
Maturity Model;
Insights in Data analysis;
Performance Index;
4 Webinars: Data Analysis and Data Visualization;
Other resources: Data Analysis and Data Visualization articles published in PERFORMANCE Magazine.
You can check our course locations and dates here.