The course provides a strong foundation towards improving performance in different scenarios, by presenting relevant tools, processes and techniques meant at closing the performance gap.
This training course presents 6 pillars that need to be applied in order to ensure performance management, starting from data analysis and reporting, continuing with decision making and initiative management and ending with learning and building a performance culture.
These six pillars are then applied in 12 scenarios, starting from different levels across the company (organizational, divisional, departmental and employee performance management), to diverse capabilities (project, process, quality and customer service performance management), and different stakeholders (suppliers, Joint Ventures, Board and personal performance management).
3 Key business benefits
Experience the real business applicability of theoretical concepts, by applying 6 performance management pillars in 12 different scenarios;
Manage poor performance in a measurable and effective manner through corrective actions and initiative management;
Improve the organizational decision making process by experiencing a variety of business scenarios.
Improve performance at all levels, by identifying and addressing specific challenges;
Develop and maintain a functional Performance Management System;
Enhance the decision making process by using relevant data;
Nurture a performance culture;
Receive a premium recognition of your expertise in performance management granted by The KPI Institute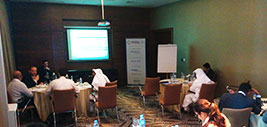 Understand the Performance Management System architecture;
Rigorously conduct the data analysis process;
Get insights on best practices in reporting KPIs;
Practice performance review meetings;
Systematize the tracking of implemented initiatives to address the objectives set;
Gain practical experience in recalibrating the Performance Management System;
Discover how to build a performance culture;
Practice performance management in 12 different scenarios.
Day 1: Performance Management Fundamentals
Performance Management Framework
The Performance Management System Architecture;
The importance of implementing a Performance Management System;
The Performance Management System governance;
The Performance Management levels;
The Performance Management tools.
Performance Management Scenarios
Levels: organizational performance management, divisional performance management, departmental performance management, employee performance management;
Capabilities: project performance management, process performance management, quality performance management, customer service performance management;
Stakeholders: supplier performance management, Joint Ventures performance management, Board performance management, personal performance management.
Data Analysis
Data quality dimensions
Levels of KPI analysis;
Business analysis techniques.
Data Reporting
Report compilation;
Data visualization rules for well-structured reports;
Performance report communication channels.
Day 2: Performance Management Pillars
Decision Making
Performance review meetings;
Corrective actions for KPIs;
Effective follow up of performance review meetings;
Initiative Management
Portfolio of Initiatives development;
Initiatives documentation form functions;
Initiatives documentation process;
Monitoring the initiatives implemented
Learning and Improvement
Performance Management Lifecycle – Evolution;
Strategy review;
Performance Management System recalibration;
Organizational Capability Maturity Models;
Performance Management Maturity Model;
Building a Performance Culture
Change management;
Employee performance management;
Employee engagement;
Bonus systems examples;
Day 3: Performance Management in Practice
Performance Management: Levels
Organizational performance management;
Divisional performance management;
Departmental performance management;
Employee performance management;
Performance Management: Capabilities
Project performance management;
Process performance management;
Quality performance management;
Customer service performance management;
Performance Management: Stakeholders
Supplier performance management;
Joint Ventures performance management;
Board performance management;
Personal performance management
Review and Certification Exam
Course review;
Certification Exam.
1. Course materials that consist in:
Course slides
Course notes
2. Performance Management Toolkit, containing the following templates:
Desired State of Evolution;
Strategy Map;
Performance Scorecard;
Performance Dashboard;
Performance Healthogram;
Performance Maturity Model;
KPI documentation;
Initiatives Portfolio;
Initiatives Documentation;
Performance Management System Architecture;
Monthly Performance Management Process;
Employee Scorecard.
Furthermore, the templates are accompanied by two manuals and two publications:
Performance Dashboard Guide for Administrator;
Performance Scorecard Guide for Administrator;
KPIs for Human Resources Dashboard;
KPIs for Human Resources Scorecard.
3. Premium Subscription on smartKPIs.com available for 6 months, providing access to 500 fully documented KPIs and over 20.000 KPIs enlisted;
4. One research report from the Top 25 KPIs series;
5. Free access to all webinars from the 2014 Performance Management Webinar Series for 3 months.
Individuals interested in performance management
Entrepreneurs, analysts and professionals from different fields, interested in performance management, will acquire the knowledge needed to better understand performance management. The networking opportunity and the possibility of sharing knowledge and personal experiences constitute a unique learning experience that facilitates the acquisition and assimilation of performance management skills.
Top/middle/lower management people
Individuals from top/middle/lower management and their respective organizations, regardless of their field of expertise, will be glad to discover that the "Certified Performance Management Professional" course provides the pillars, tools and resources required for the effective implementation of a Performance Management System within their organizations. By sharing good practices in the field, the participants and the trainer can come up with solutions to the challenges that appear within organizations.
Performance management experts
Professionals who occupy positions such as Strategy Manager, Performance Manager or Performance Architect, who already use certain practices within their organizations or have already implemented certain processes and tools, now have the opportunity to check whether the business activity lives up to the standards, and thus, to identify improvement opportunities.

This course will be delivered by one of our trainers. Our faculty are certified master trainers, with abundant experience as both practitioners and education providers. Having both professional and academic experience, our trainers are able to bring the depth and breadth of their knowledge to our courses.
Being extensively certified reaffirms our credibility as a training provider and also supports our goal of delivering consistent quality to our valued clients.
For more details visit Our Faculty page.

Pre course
This part of the learning experience is meant to ensure a smooth transition to the face to face training. Participants are required to take the following steps:
Needs assessment – complete a questionnaire to determine a tailored and relevant learning experience;
Pre-course evaluation quiz – take a short quiz to establish the current level of knowledge;
Guidance and schedule – analyze a document presenting guidelines on how to maximize your learning experience;
Forum introduction – share an introduction message to present yourself to the other course participants;
Expectations – share your expectations regarding the training course;
Video resources – watch the webinar "How to overcome 3 key challenges in measuring performance", to get familiar to Performance Measurement, as this is the starting point of the Performance Management training course;
Pre-requisite reading – check several materials in advance, in order to get an overview on the discipline and to gain a more holistic view upon the subject;
Assignment – reflect on the Performance Management challenges faced in different scenarios and come up with 3 actions that could be taken to improve performance.

Core course
During the three days of face to face training, the course is designed to facilitate experiential learning and ensure a high level of interactivity. Exercises used to enhance the development of competencies range from simple matching of concepts to extensive analyses of case studies. The learning experience consists of:
Applying concepts in practical exercises;
Analyzing case studies and identifying solutions;
Using templates to effectively work with performance management tools;
Sharing experiences and best practices;
Creating a network of performance management professionals;
Evaluating the knowledge gained, through short quizzes to support the final test.

After-Course
Action plan – create a plan for the actions and initiatives you intend to implement after the training course
Forum discussions – initiate a discussion and contribute in a discussion opened by another participant;
In-house presentation – create and submit a short PowerPoint presentation to present your colleagues the knowledge you have accessed during the training course;
Additional reading – go through a series of resources to discover case studies of companies that managed to improve their performance;
Learning journal – reflect upon your 3 stages learning experience and complete a journal.
The certification process is finalized only when you complete all of the 3 stages of the learning experience. Nonetheless, you will receive a:
Certificate of Attendance: after participating at the 3 days of on-site training course;
Certified Performance Management Professional diploma: after you have successfully completed all of the 3 stages of the learning experience.
We strongly recommend that you obtain the Certified Performance Management Professional title, as this endorses your skills and knowledge related to this field.
Highlights of the training sessions - Get a quick insight into the course content and structure!
Scorecards Catalogue - Are you interested in what the main industries measure and how they do it? Get an insight on the global best practices in performance measurement.
Maturity Model Questionnaire  - Get an overview of your current performance status in a glimpse.
Initiative Documentation Form - Get your initiative right, from top to bottom: Document initiatives and follow their progress in a clear and organized manner.
Glossary- Understanding terminology - Get a clear understanding of the terms you use when you start working on your performance management.
Performance Management Articles - Grasp a sample of our acumen and best practices through this fair selection of valuable articles.
You can check our course locations and dates here.