This course will help improve long-term organizational performance through the use of strategic planning tools. Participants will explore the framework that provides the foundation of a successful business strategy, focusing on the main components of a strategy and practicing the development of an efficient strategic plan. By acknowledging the factors and implications involved in designing a strategy, participants can develop and execute smarter and quicker strategic decisions.Clear strategic thinking should form the support of every business decision. The course will also provide insights on the fundamental principles and methods for communicating strategy across the organization.
3 Key Business benefits
Gain competitive advantage by understanding the business context in which strategic planning is used;
Attain the desired state of organizational evolution by developing a strategy plan and receive guidance on how to implement it;
Ensure excellent strategy implementation by accessing and using rigorous strategy planning tools.
Get a deeper understanding of the connections between organizational strategy and the business environment;
Improve the way you communicate your strategy by discovering relevant internal and external communication tools;
Attain a standardized approach to developing and implementing an organizational and departmental strategy in a successful manner;
Access an innovative learning experience based on a 3 stage educational process;
Obtain a premium recognition as a Certified Strategy and Business Planning Professional by completing a unique international learning program.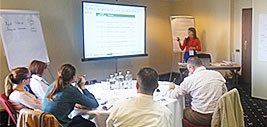 Comprehend fundamentals of the strategic planning process;
Use the right tools to scan the external and internal organizational environment;
Understand the steps in designing an organizational and departmental strategy;
Learn how to set clear strategic objectives;
Understand key areas in business planning such as production, talent, financial resources and marketing.
 Day 1
Impact, mission, values
Impact statement;
Mission statement;
The concept of values and their usefulness.
Business model and value drivers
The role and structure of a business model;
The meaning of value drivers;
The link between value drivers and company's strategy.
Internal capabilities and SWOTM analysis
Internal capabilities' roles;
The link between internal capabilities;
SWOTM Analysis.
Vision and goals
The difference between vision and mission;
Vision statement;
The link between company's goals and vision.
 Day 2
PESTEL Analysis
External macro-environment;
PESTEL Analysis;
Early warning systems, events and mini-trends.
Porter 5 Forces Model
External micro-environment;
The connection between macro and micro environment;
Porter 5 Forces Model.
SWOT analysis & scenario planning
The connection between external and internal analysis and company's strategy;
SWOT analysis;
Scenario planning tool.
Competitive strategies
The concept of competitive strategies;
Types of competitive strategies;
Role of competitive strategies.
 Day 3
Growth strategies
The concept of growth strategies;
Types of growth strategies;
Role of growth strategies.
Objectives and KPIs
Objectives' formulation;
Objectives – the link between goals, environment and value drivers;
KPI selecion and documentation.
Portfolio of initiatives and action plan
Programs;
Projects;
Procedures.
Strategy visualization and alignment
Strategy visualization tools;
Strategy alignment across all levels of the organization;
Performance management toolkit.
Review and Certification Exam
Course review;
Certification Exam.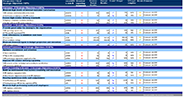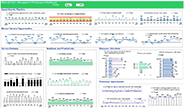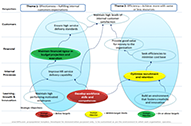 1. Course materials that consist in:
Course slides
Course notes
2. Performance Management Toolkit, containing the following templates:
Desired State of Evolution;
Strategy Map;
Performance Scorecard;
Performance Dashboard;
Performance Healthogram;
Performance Maturity Model;
KPI Documentation;
Initiatives Portfolio;
Initiatives Documentation;
Performance Management System Architecture;
Monthly Performance Management Process;
Employee Scorecard.
3. Premium Subscription on smartKPIs.com available for 6 months, providing access to 500 fully documented KPIs and over 20.000 KPIs enlisted;
4. One research report from the Top 25 KPIs series;
5. Free access to all webinars from the 2014 Performance Management Webinar Series for 3 months.
Professionals interested in measuring performance
Professionals from different fields, such as finance, human resources, production, logistics, information technology and others, who are interested in strategic planning, will acquire the competencies needed to design a strategy for their organization or department.
Top/middle/lower management professionals
Individuals such as executives or strategic managers, regardless of their field of expertise, will gain the ability and knowledge to develop a strategy tailored for their needs. The tools and resources offered as part of the Certified Strategy and Business Planning Professional Course enable managers to apply the concepts learned within their organizations, immediately after the course.
Performance measurement experts
For professionals such as Data Analysts, Strategy Managers, Performance Management Officers or Performance Architects, it is important to develop competencies in strategic planning especially in terms of analyzing the current state of the organization and cascading the strategy from the organizational level to departments and to the employee level. Usually, this particular audience already has a strategic system set in place and the Certified Strategy and Business Planning Professional Course offers the opportunity to learn the best practices in this field and to identify how they can improve their current processes and approach to strategic planning.

This course will be delivered by one of our trainers. Our faculty are certified master trainers, with abundant experience as both practitioners and education providers. Having both professional and academic experience, our trainers are able to bring the depth and breadth of their knowledge to our courses.
Being extensively certified reaffirms our credibility as a training provider and also supports our goal of delivering consistent quality to our valued clients.
For more details visit Our Faculty page.

Pre-course
This part of the learning experience is meant to ensure a smooth transition to the face to face training. For a successful learning experience, it is highly recommended to take the following steps:
Introduction – share a message to introduce yourself to the other participants in an online group;
Pre-course evaluation – complete a needs analysis by answering a short quiz to establish the current level of knowledge and a section to share expectations. As a part of this self-evaluation, participants can establish personal learning objectives for this training;
Prerequisite reading – review several materials, including topics such as history, management theories. Also, KPI definitions should be reviewed before the core course, in order to gain a more holistic view upon the subject and to create a common knowledge base related to strategic planning;
Guidance and schedule – read a document presenting guidelines on how to maximize your learning experience, by using all the resources offered, as well as a recommended learning schedule.

Core Course
During the five days of face-to-face training, the course is designed to facilitate experiential learning and ensure a high level of interactivity. Exercises used to enhance the development of the competency range from simple matching of concepts to extensive analyses of case studies. The learning experience consists of:
Applying concepts in practical exercises;
Analyzing case studies and identifying solutions;
Using templates to develop performance measurement instruments;
Sharing experiences and best practices;
Constantly evaluating participants' knowledge, through short quizzes to support the final test.

After-Course
After the course, participants are offered the resources and the platforms that will encourage both knowledge improvement and experience sharing. The after-course learning experience is comprised of:
Action plan – submit a plan to state the changes you intend to make in your department or organization in terms of Strategy Planning, 3 days after the training course;
In-house presentation – submit a PowerPoint presentation that you will deliver within your organization, on key topics covered during the training course;
Additional reading – read a list of resources (books, articles and videos), meant at ensuring a continuous learning experience;
Follow-up – fill in a survey, 3 months after the course, to determine what you have successfully applied within your organization, as a result of attending the training course.
The certification process is finalized only when you complete all of the 3 stages of the learning experience. Nonetheless, you will receive a:
Certificate of Attendance: after participating at the 3 days of on-site training course;
Certified Strategy and Business Planning Professional diploma: after you have successfully completed all of the 3 stages of the learning experience.
We strongly recommend that you obtain the Certified Strategy and Business Professional title, as this endorses your skills and knowledge related to this field..
Catalogues: KPI Documentation Forms, Dashboards and Scorecards;
The qualitative reports Performance Management in 2012 and Performance Management in 2013;
Video doodles: "What is a KPI, a KRI and Metrics", "What is a Dashboard", "What is a Scorecard", "Understanding the KPI Documentation Form";
Other resources: consisting in videos, whitepapers or case studies relevant for strategic planning.
You can check our course locations and dates here.
Attendance rates for this training course start from $2,800 depending on the location. For 2 or more participants from the same organization, we offer up to 25% discount off the course fee.
European Division
Sibiu Office
T: +40 3 6942 6935
M: +40 7 4706 0997
office@kpiinstitute.org
Middle East Division
Dubai Office
T: +971 4 311 6556
M: +971 55 787 6427
office@kpiinstitute.org
SE Asia Division
Kuala Lumpur Office
T: +60 3 2742 1357
M: +60 11 3303 2135
office@kpiinstitute.org
Headquarters
Melbourne Office
T: +61 3 9028 2223
M: +61 4 2456 8088
office@kpiinstitute.org