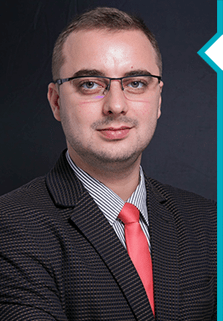 Alin Sonda
Management Consultant
The KPI Institute
Alin Sonda is the Head of Performance Audit Services at The KPI Institute, a research institute specialized in business performance which operates research programs in 12 practice domains ranging from strategy and KPIs, to employee performance and from customer service to innovation performance. The KPI Institute is also considered today the global authority on Key Performance Indicators (KPIs) research and education.
As a trainer, Alin has facilitated open, online and in-house training courses on Key Performance Indicators and Performance Auditing, designed to support performance measurement and improvement. He drives value for client organizations by training professionals, providing consulting services and solutions, to improve performance management practices. Some of the client organizations assisted are: Swagelok (USA), Andes Petroleum Ecuador, Ezzsteel Egypt, Bank of Maldives, The Institute of Development Management in Botswana, Guaranty Trust Bank Nigeria, Julphar Gulf Pharmaceutical Industries Bangladesh and DST Brunei.
He is an experienced professional that worked for over 10 years in the banking sector. He acquired skills in performance measurement and improvement, training, coaching and coordinating teams, sales and project management, auditing and financial analysis.
Alin's academic qualifications are in the field of Business Administration, where he has a bachelor's degree. He performed additional coursework for professional development in:
Performance measurement and improvement
Sales;
Presentation Skills and Coaching;
Financial Analysis and Internal Auditing;
Risk Management and Fraud detection;
Investigation and prevention.