Membership
Stay competitive with the resources, insights and the support network that comes with The KPI Institute membership.

Education
Invest in your professional development by choosing a broad set of world-class education services designed to meet your needs.

Research
Develop a road map to assess business impact and improve performance by using specialized research servies.

Publications
Access a library of rich publications and explore the latest ideas and thinking around key management topics.

Aurel Brudan
CEO of The KPI Institute
An interview on Performance Management and the challenges organizations face in developing strategy and managing peformance.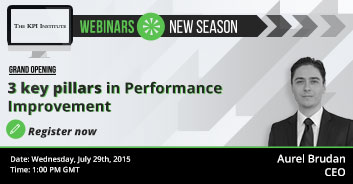 3 key pillars in Performance Improvement
Building on this structure, the webinar offers guidance and practical pieces of advice for integrating all 3 pillars in one sound framework!
Speaker: Aurel Brudan, CEO of The KPI Institute.